Speaking Notepad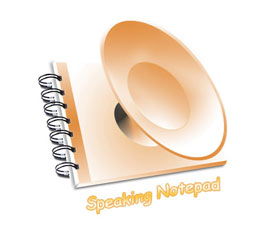 Speaking Notepad 5
Current version: 5.2
Platform: Windows 98/Me/2000/XP/2003/Vista/Seven
Download size: 1.98 MB
Single licence price: $29.95 USD
Download | Buy now! | Overview | Screenshots | System requirements | FAQ | User comments
What is Speaking Notepad?
Speaking Notepad is handy text editor with powerful text-to-speech capabilities. Speaking Notepad will read your TXT, RTF, DOC, HTML and PDF documents with SAPI4 and SAPI5-compliant high quality voices, different speed and pitches, read clipboard content, record texts into WAV, MP3 and WMA files and even read every word or sentence you are typing.
How Speaking Notepad 5 differs from previous versions?

Speaking Notepad at
FindMySoft
Full SpeechAPI 5 support
Multi-language interface support
Different visual styles of program
Record speech into WAV/MP3/WMA sound file easily
... and much more!
Overview
Speaking Notepad is handy text editor with powerful text-to-speech capabilities. Speaking Notepad will your TXT, RTF, DOC, HTML and PDF documents, readme's, notes, e-mails and clever and interesting thoughts aloud. With its help you'll cope quickly with routine work at home or in the office. Just imagine, how much easier it is to listen to texts instead of reading them! Give a rest to your eyes! The program will read texts with SAPI4 and SAPI5-compliant high quality voices, different speed and pitches, read clipboard content, record texts into WAV, MP3 or WMA files and even read every word or sentence you are typing. That means you can control your typing aurally without looking fixedly at your monitor. Speaking Notepad is designed for those who value swift commodity in work combined with fascinating abilities and an interface which will delight your eyes. It will definitely become your best friend.
Before you buy Speaking Notepad please look through its main advantages over standard Notepad:

Speaking Notepad at
Software Informer
Make a present to your eyes

Your eyes are getting tired during long and intensive work. When you are staring at your monitor your eye muscles strains a lot. Such work at the breaking point of your eye capabilities may cause serious problems with your eyesight in the nearest future. Give a rest to your eyes with Speaking Notepad! Let computer read for you, and your eyes will tell you "Thank you".
Type text without looking at the screen

You are typing long text and constantly turning your eyes from keyboard to monitor to control what you are typing? Now you can concentrate only on work and your thoughts because Speaking Notepad can read aloud what you are typing.
Listen to e-books

With powerful bookmark management system Speaking Notepad becomes an ideal solution for e-books reading.
Record your speech!

Want to bring your texts to another computer in the format of a sound file? Want to learn a foreign language on your own? Want to prepare voice greeting cards? With Speaking Notepad it is as easy as one click.
Keep your ideas in one-click distance

Write down interesting thoughts and you'll never forget them. Click a button and Speaking Notepad will read your thoughts aloud!
You name it!

Speaking Notepad can be useful for many purposes. Maybe you'll find new innovative one. Guess an uncommon usage of Speaking Notepad and you'll get a 10% discount for one of our other products. For example, one of our customers told us that once he used Speaking Notepad to play a good April Fool's Day joke over his friends. He called them and Speaking Notepad read greetings to them with different voices.
And at last...

At last this is just a handy and speedy notepad with vast functional capabilities. We are sure it'll easily replace standard Windows Notepad... or even Microsoft Word!
Download additional voices and speech engines for Speaking Notepad
Want to get high quality voices?
Cepstral® voices - are the best solution. At Cepstral®, Text-to-Speech (TTS) is the only focus. They make realistic synthetic voices that can say anything, anywhere, with personality and style. From the smallest device to large installations and high-end interactive media; Cepstral voices can bring fresh content to your ears, on demand.
Cepstral voices ideally fit Speaking Notepad!
Main features
Handy notepad with speaking capabilities
Supporting DOC, RTF, HTML, PDF and text files
Recording speech into WAV, MP3 or WMA sound files
Choose one of dozens of different voices
Change voice speed and pitch in one click
Powerful bookmark system
Type & Read function
SAPI4 and SAPI5-compliant voices
Large number of visual styles
Smart Spell Checker
Efficient work with hot keys
User-friendliness and handy interface
If you feel that should have more features or functions, please write us - manager@qwertystudios.com - and tell, what features do you want us to include into program. We can also create custom build of program with specific capabilities specially for your company or team.
Additions for Speaking Notepad
Language modules

Work with Speaking Notepad in your native language!

»

Visual styles

Choose the style of program and enjoy!

»
Testimonials
Read Speaking Notepad Review from Top Software Reviews blog.
Speaking Notepad is a tool that will catch your attention for sure! Speaking Notepad is a software that speaks your text out aloud. Its features don't end here! You can save your text as a .WAV or a .MP3 file! Imagine the kind of things you can do with a software like that.
For one you can use it for educational use. If you have some info on the internet, Speaking Notepad can read it aloud! Same goes with e-Books and long pages of info. Are typos your problem? Don't fear, Speaking Notepad is here! Now with a technology to read what you type. Every word! You don't even need to look up from the keyboard as you type.
QWERTY STUDIOS has come up with an ingenious product that is definatly worth a download.
Ashwin Yerra
If i may, i would like to say that your product, speaking notepad, is proving itself to be one of the most usful programs i've ever perchased. i have a sever learning disablity, but your program as allowed me to almost double my reading intake, not only that but my writing is improving as well. now i am able to listen to an impartial reader of what i have written, and hear from a third party perspective what my writing might sound like to other people.

But the best feature is being able to save the audio file, so now i can put it on my ipod and listen to text while driving. i have about an hour of driving every day.

Thank you so much for this product.
Zach Smith
Screenshots
Here you can view screenshots of Speaking Notepad. Click on image to enlarge.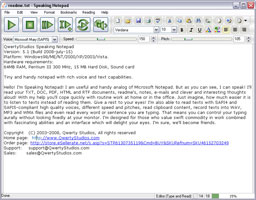 Speaking Notepad main window (text editor)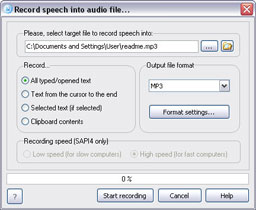 Recording speech into audio file window
Troubleshooting
Trouble: Program shows critical error after starting/during work/at exiting under Windows Vista. How to solve this problem?
Our answer and solution: The reason of the problem is Windows Vista security system for newly installed applications. To solve it you should allow Windows Vista to start Speaking Notepad after its first run.
System Requirements
Platform: Windows 98/ME/NT/2000/XP/2003/Vista/Seven
64 MB RAM
Pentium III 500 MHz
15 MB Hard Disk space
Sound card
Frequently asked questions (FAQ)
Questiom: What additional files does Speaking Notepad require?
Answer: Speaking Notepad requires Microsoft Text to Speech Engine, Microsoft Speech API (SAPI) and at least one TTS Voice installed in your system You can download SAPI 4 from this link and Lernout & Hauspie TruVoice Amer. Eng. TTS Engine from this link. However, in normal situation you need not download them manully because Speaking Notepad's installer does this automatically.
User comments
Kenneth Smith (7 Oct 2008, 08:09)
I love Speaking Notepad! I've used for years to give my computer life and as a valuable text editing tool. It's an awesome tool that is fun to use.
---
sureshtekwani (7 Jun 2009, 09:03)
Most amazing snd very useful programme. Thanks!Regards!
---
Dr Kamta (22 Aug 2009, 08:02)
I have been using Speaking notepad for more than two years and I am very happy with this super software.It is so easy to use and for a busy person it is ideal.I convert endless files and listen to them on the go.
---
Svein Knutsen (17 Mar 2010, 03:18)
I am extremely satisfied with Speaking Notepad, and I am enjoyiing it more and more as I learn to use it. Thank you for a very good and helpful program. :)
---
Marlene Cvetko (10 Jun 2010, 12:54)
I have been teaching disabled students to convert text to audio easily and listen to their text. It's easy. It is an awesome program!
---
Naren (29 Dec 2010, 09:50)
It is Very Simple And Soft
---
Andreaw (10 Apr 2011, 22:58)
can it read spanish or chinese, or italian or other language?
---
Support Staff (11 Apr 2011, 07:28)
Andreaw, yes. Speaking Notepad can read text in any language if you have installed the appropriate voices.
---
santi (1 Aug 2011, 18:10)
can i improve the programs?
---
Support Staff (2 Aug 2011, 07:08)
Santi, surely you can help us improve our programs! Just let us know what you'd like to be improved or changed and how? >can i improve the programs?
---
Ra??l Perell?? Alonso (13 Aug 2012, 12:29)
Please. Can you tell me why not work on my PC programs Qwerty Studios? I get the following error message: SpeakingNotepad.exe have encountered a problem and needs to close. Thank you very much.
---