TResManager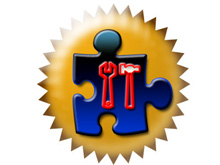 TResManager
Platform: Windows 98/Me/2000/XP/2003/Vista/Seven
Environment: Delphi 5 or higher
Download size: 0.55 MB
Price: free
Download | Overview | User comments
Overview
Put all your program's or game's resources into a single file, compress and encrypt it and get necessary resources from inside application with a single command.TResManager is intended for keeping and fast'n'easy access to program's resources. It is not a single component but a package which consists of the component and the program that creates and manages resource files. Here are the main features of TResManager:
You can get and use your resources in the way like this:

Image1.Picture.LoadFromFile(ResManager1.GetFile('root/pics/mypics/pic1.bmp'))
Resource file can contain internal tree of files and folders with any degree of complexity
You can pack files with any types and sizes
Internal transparent GZip compression. You can get needed file without unpacking them all
ZipCode encryption of resource file with lengthy password
Preloading of needed resources for better performance
Automatic managment of temporary files
Download TResManager now for free!
Castor69 (17 Mar 2009, 11:43)
If I see well output file is only ZIP archive? What about Delphi 2009 support?
---