Speech Suite
Speech Suite

Platform: Windows 98/Me/2000/XP/2003/Vista/Seven

Single licence price: $39.95 USD

Get integrated power of Speaking Notepad and 1st Read It Aloud in Speech Suite for reduced price and get a free bonus - subscription to our text-to-speech related newsletter ($10 value)! Save $20 now!

Download | Buy now! | Order information and pricing | User comments
"A lot of companies today are doing their best to make this a reality
with their products and Speech Suite is one of such products!"

Reviewed and top rated by 3d2f.com file archive
What you will find inside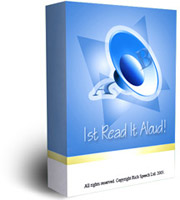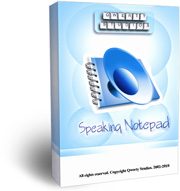 Speaking Notepad is handy text editor with powerful text-to-speech capabilities. Speaking Notepad will read your TXT, DOC, HTML and RTF documents with SAPI4 and SAPI5-compliant high quality voices, different speed and pitches, read clipboard content, record texts into WAV or MP3 files and even read every word or sentence you are typing.
This program will read selected text from any application with a single keystroke! Just select some text from any application, press hot key and enjoy listening to the live voice reading your documents, readmes, notes, e-mails, web sites and a lot of other useful stuff. You even don't need to copy desired text into clipboard! What can be easier? Just select and listen!
Want to get high quality voices?
Cepstral® voices - are the best solution. At Cepstral®, Text-to-Speech (TTS) is the only focus. They make realistic synthetic voices that can say anything, anywhere, with personality and style. From the smallest device to large installations and high-end interactive media; Cepstral voices can bring fresh content to your ears, on demand.
Cepstral voices ideally fit Speech Suite!
User comments
Kathryn Becker (8 Jun 2009, 17:59)
I have Dragon Naturally Speaking, and we know how long that takes to program, how comparable is Speech Suite to Dragon - and what are the ways in which I can create audio books for our church better with your program. Thank you.
---
Kaminey (1 Feb 2010, 08:57)
You gonna rock the PC Software Industry.
---