Download Natural Reader - Speaking Notepad
Are you looking for a powerful Natural Reader for your computer? You are in right place! Qwerty Studios specializes on natural reading software that help people in their work, education and entertainment. We are proud to offer you our best voice oriented product: Speaking Notepad. With Speaking Notepad there is no need for you to read texts - you can listen them. You can listen texts while you are typing them. Download our Natural Reader - Speaking Notepad and check its features right now!
Speaking Notepad is an easy but powerful natural reading software for your computer. But let him speak with you:
Hello! I'm Speaking Notepad! I am useful and handy analog of Microsoft Notepad. But as you can see, I can speak! I'll read your documents, readme's, notes, e-mails and clever and interesting thoughts aloud! With my help you'll solve a lot of your problems at home or in the office. Just imagine, how it's easier to listen to texts rather than read them. Give rest to your eyes. Also I can read texts with different voices, speeds and pitches, read clipboard content and even read every word your are typing. That means that while typing some text you may even not look at screen at all and control your typing orally. I'm designed for people who knows the value of fast and comfortable work and entertainment. I'm sure, we'll become friends.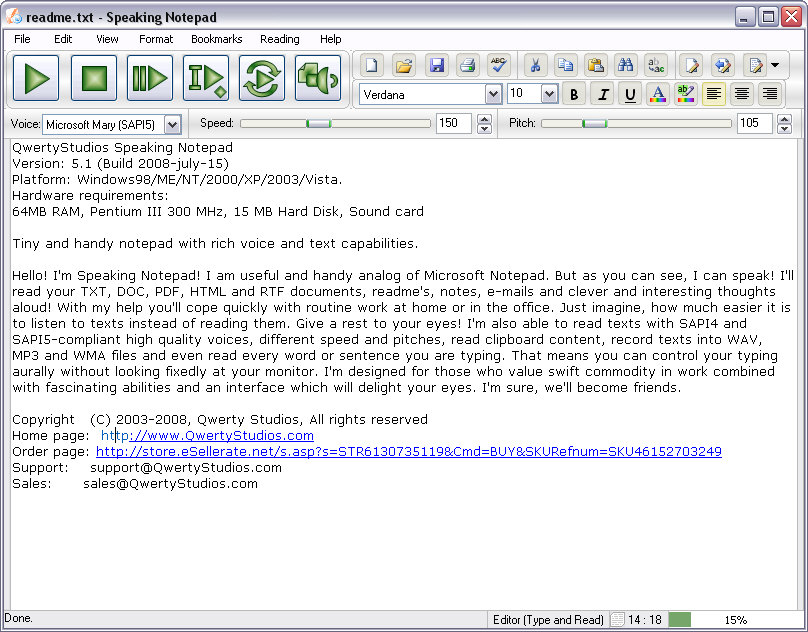 If you want to listen to your e-mails, news, web page content try 1st Read It Aloud. Just select some text from any application, press hot key and enjoy listening to the live voice reading your documents, readmes, notes, e-mails, web sites and a lot of other useful stuff. You even don't need to copy desired text into clipboard! What can be easier? Just select and listen!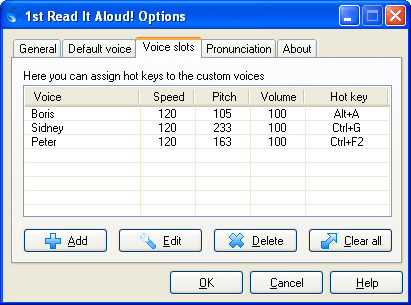 More information about Speaking Notepad or 1st Read It Aloud and other natural reading software
Why not to try our natural reading solution right now?
Search for other topics about natural reading software on our site